Episodes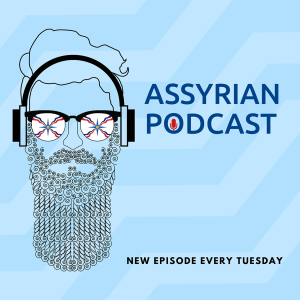 Tuesday Apr 06, 2021
Tuesday Apr 06, 2021
Episode 138 - Ramel Nasseri was born in Tehran / Iran to his parents Nathan Nasseri and Rabi Bertha Shavel Okhsar. At an early age he learned to love and cherish his Assyrian heritage and his Church by the example of his parents and the benefit of growing up at the feet of his Grandfather Rabi Ammanuel Shavel Okhsar of Urmi and his late Holiness Mar Dinkha IV, two Giants of the Assyrian Community. Like many other families, Ramel and his parents left Iran during the war time for their final destination in the United States of America. He spent 8 years in Germany before settling in Plano TX. Here he finished his High school years and attended the University of Texas in Austin and the University of North Texas in Denton, graduating with a Bachelor's degree in Anthropology and minors in Geology and German. Later he received a Master's degree in Dispute Resolution and Conflict Management from Southern Methodist University in Dallas. His work and career spans across multiple fields;
An IT professional specializing in customer support, project management, process improvement, process analysis and program design.

An Educational Technology specialist.

Licensed Family Mediator

International Mediation with a focus on ODR

And his latest venture in the Film industry in Special FX.
As a Texas resident of 28 years, he has been active in the Dallas Fortworth area Assyrian community and the larger Texas Assyrian community, helping establish the Saint Jacob Mission of the Holy Apostolic Catholic Assyrian Church of the East in Dallas TX and serving as the Vice President of the organization. He is also a proud member of the Assyrian American Association of North Texas.
Facebook: https://www.facebook.com/rnasseri1
Instagram: @texaswanderlust
Support for this week's episode of The Assyrian Podcast is brought to you by Tony Kalogerakos and the Injury Lawyers of Illinois and New York. If you know anyone that has been in a serious accident, please reach out to Tony Kalogerakos. Tony has been recognized as a Top 40 lawyer, and a Rising Star by Super Lawyers Publication and has obtained multiple multi-million-dollar awards. Tony can be reached at InjuryRights.com or 847-982-9516. 
This episode is sponsored by The Oushana Partners-- a husband and wife real estate team. Are you considering purchasing or selling a home in Arizona or California? John and Reata are available to help make your next real estate decision into a seamless transaction. Contact the Oushana's at 209-968-9519. Get to know them a bit more by checking out their website TheOushanaPartners.com