Episodes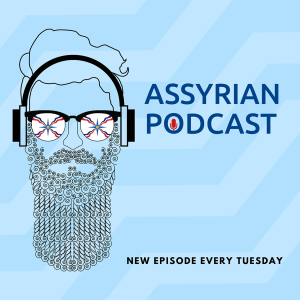 Tuesday May 09, 2023
Tuesday May 09, 2023
Episode 192 - William D.S. Daniel can be considered an Assyrian icon in our modern day history. He was a prolific Assyrian writer, musician, and composer, credited with creating some of the earliest original Assyrian music and responsible for the artistic and cultural advancement of his people. He also created the "Epic of Kateeni Gabbara" that not only revived a dying Assyrian epic, but also exposed the beauty and potentiality of the modern Assyrian language as a medium of poetry and dramatic expression. The epic is written in three volumes and contains over 7,000 verses. In this episode, Dr. Arianne Ishaya, the author of William Daniel's biography, "William Daniel, the Portrait of an Assyrian Icon", takes us through the journey of his life and legacy. 
About the guest: 
Dr. Arianne Ishaya was born in Urmia - a town in Northwestern Iran with a large Assyrian population.  She obtained her master's degree in Anthropology from the University of Manitoba, and her Ph.D. from UCLA in Cultural Anthropology. Her publications include: "New Lamps for Old", which documents the remarkable history of the Assyrian colony in North Battleford, Saskatchewan, Canada. The Assyrians were among the very first settlers of the region. The family histories in this book reveal the success story of a people who built a human chain across thousands of miles and gradually reunited separated husbands and wives, parents and offspring, and reconstituted their families. 
The detailed family histories in another of her publications, "Familiar Faces in Unfamiliar Places" take the reader to the world at large from where the members of this dispersed refugee nation have come together to form the Turlock-Modesto colony in the heartland of California. It contains poignant accounts of a people who started out with modest beginnings; but whether they came as penniless hopefuls in search of farmland, or traumatized refugees from the Middle East, they worked hard and were able to establish themselves as a stable and even well-to-do part of the Turlock-Modesto community.
She wrote the biography of William Daniel titled "William Daniel, Portrait of An Assyrian Icon" published in 2015. Her most recent works are a reprint of the three volumes of "Kateeni Gabbara", and "Discourse on the Spelling Method in The Assyrian Language" by William Daniel published in 2022. She also translated "The Last Days of Atla Kandi" by Eddie Davoud from Farsi into English published in 2022. Currently, she is working on documenting the post-World War I history of Assyrians in the two towns of Hamadan and Kermanshah, Iran.
You can connect with Dr. Arianne Ishaya at arian_ishaya@yahoo.com 
To inquire about purchasing William Daniel's poetry books, "The Epic of Kateeni Gabbara", "William Daniel, Portrait of An Assyrian Icon", and/or others, please reach out to info@aaasj.org. 
Episode musical references: 
Kubelik: Dvorak - Symphony No. 9 "From the New World" 
William Daniel's, "Spinning Wheel" sung by Lorraine Davis
William Daniel's, "Nineveh" sung by Janelle Yausif
Audio of the Epic of Kateeni Gabbara
Outro: 
Tribute to William Daniel: speech by William Daniel (1986)
William Daniel's, "Marganita" sung by Albert Shahbaz
William Daniel's "Lullaby" sung by Christina (Tina) Boosahda Harrell
William Daniel's, "Shara" sung by Water Aziz 
Other resources:
https://www.assyrianfoundation.org/files/2003-1new.pdf 
https://www.qeenatha.com/artists/WilliamDaniel/92/