Episodes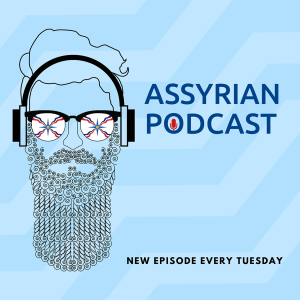 Tuesday Apr 18, 2023
Tuesday Apr 18, 2023
Episode 190 - Rachel Sarah Thomas is an Assyrian American singer and songwriter hailing from the Windy City of Chicago, Illinois. Born to Assyrian parents, she was raised with a deep appreciation for her cultural roots, and grew up speaking and writing in Neo-Aramaic - a language that most people believe is extinct. Immersed in the dance, liturgical, and folk music traditions of her Assyrian family, she soon discovered her passion for music.
Thomas spent years exploring her musical identity in the vibrant independent music scene of Chicago. She embarked on her electrifying pop project, KSRA, and collaborated with esteemed artists such as Thelonious Martin and NYLO, and even worked with rap legend Talib Kweli. She also produced a record with the Grammy-winning duo, Tha Bizness. Despite her success, she realized there wasn't a space where she felt fully represented. So, she created her newest project, Sheekar, a bold and dynamic collection of Assyrian folkloric and pop music from Iraq, Iran, and Syria, fused with American musical traditions such as funk, soul, and rock n' roll.
Sheekar (pronounced She Cɛr) is a celebration of Rachel's blended identity, a powerful East-meets-West fusion that proudly showcases the beauty and richness of her culture. Her music is a testament to the shared experiences of people from different backgrounds, and she hopes to inspire non-Assyrian people to appreciate and enjoy her culture while also introducing Assyrian people to a fresh and exciting take on their own music.
Rachel's first single, "Shara," from her upcoming EP Sheekar, is set to be released in May of 2023
IG: therealrachelsarah
Spotify & FB: Rachel Sarah Thomas